While working toward a beautiful smile that improves confidence as well as oral health, you may not want to show proof of treatment every step of the way. You deserve a corrective treatment that works to fit into your life, not the other way around. We are excited to offer a variety of unique options that can deliver beautiful results.
If you are looking for ultimate discretion and freedom, Invisalign may be the perfect choice for you. Maintain the beauty of your natural smile throughout your treatment with the revolutionary appliance that is taking orthodontics by storm.
What Is Invisalign?
This modern treatment includes a series of removable clear aligners that are crafted to perfectly fit over your teeth and provide you with consistent comfort. Over time, the aligners are adjusted little by little to shift your teeth into the desired space. In order to keep constant pressure on your teeth to move them gradually, you will receive a new set of clear aligners every two weeks.
Patients are amazed that they can achieve the same great results as they would with braces without the look of brackets and wires. You can show off your pearly whites before, during, and after treatment without concern for visible appliances making a guest appearance. You can remove these trays whenever you like so that you can eat, take pictures, or do whatever you like. However, it is important that you wear Invisalign for at least 20-22 hours a day for maximum efficiency.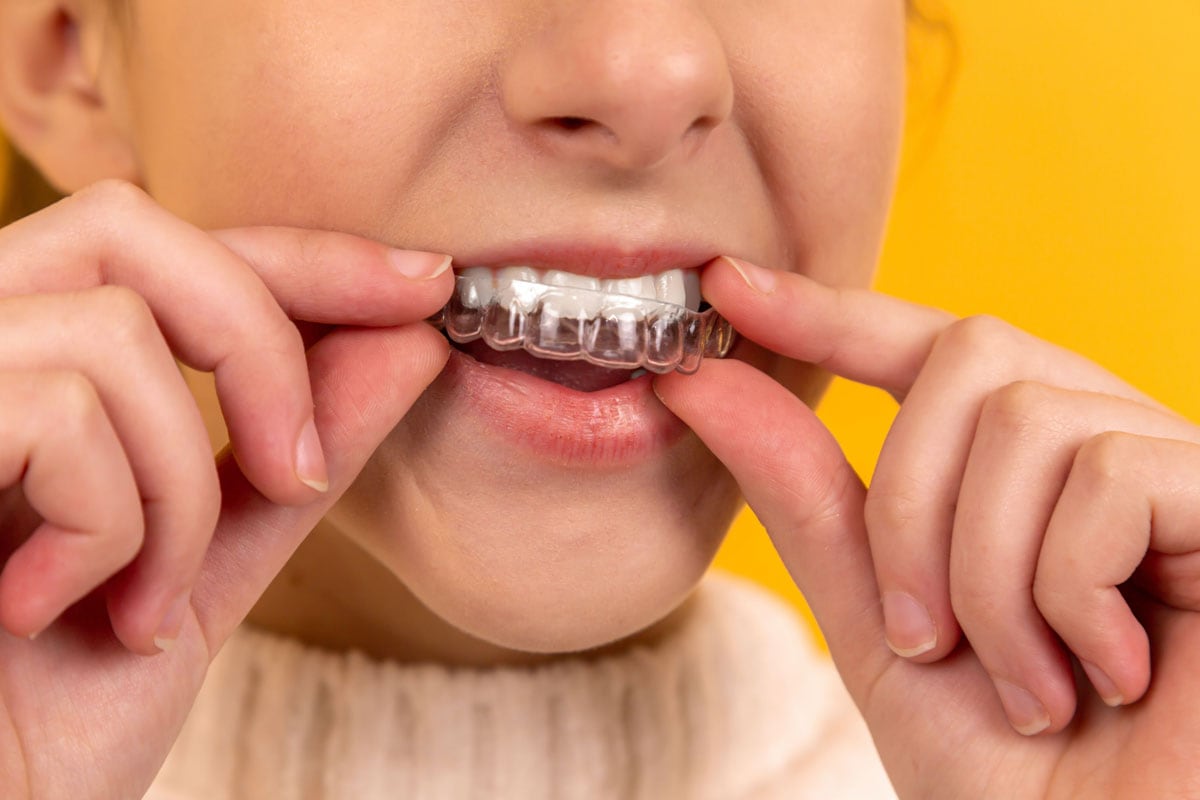 Technology Used
At SoCO Smiles Orthodontics, we are proud to be on the cutting edge of technology and modern techniques. Invisalign is a treatment that uses both of these qualities to deliver amazing smiles. Once you decide that you want to pursue Invisalign treatment, we will take a very detailed image of your mouth, teeth, and jaw so that we can outfit you with a plan and appliance that is unique to your needs.
After we take this 3D image, we can make digital adjustments to it to mimic the effects of treatment and project an image of what your smile will look like. This allows you to see how treatment will benefit you specifically and allow you to make educated decisions about your goals. We encourage an open dialogue, and we are happy to explain the image as well as make further adjustments to your treatment plan to best suit you.
Once we've decided upon the dream results, we will have your first pair of clear aligners printed using a 3D printer that produces an appliance that will fit snugly over your teeth. Not only do they have a perfect fit, but the aligners are printed using a thermoplastic that was designed to be comfortable and durable.
Benefits
One of the main aspects of Invisalign that patients can't stop talking about is how much freedom the treatment allows its wearers. Patients in Invisalign can continue to live their best lives with little to no impact throughout treatment other than progressing smiles.
Schedules get crazy, and it can be difficult to fit appointments in during the day. While we love to visit with patients, we understand that the less time they spend in the chair, the more time they have to cross another item off their to-do list. When you do have appointments, they will be shorter and less involved than a typical adjustment.
Invisalign aligners are gaining popularity because they can be easily removed at the patient's pleasure. You don't have to give up any of your favorite foods or treats because they have to be removed while you're eating, regardless. There is no threat of pulling a wire or popping off a bracket, so you have one less thing to worry about during your daily routine.
You can also remove them for special events or sporting events. While Invisalign tends to play the role of a mouthguard during games, you can easily remove them if you feel more comfortable playing without them. The most important thing to remember is to put them back in place after you're done, so there aren't any accidental teeth shifts.
As oral health specialists, we are particularly excited about how much easier it is to maintain your oral hygiene routine while in Invisalign. After you remove your aligners, you can brush twice a day and floss as you normally would without having to maneuver around a metal appliance. This will make upkeep simpler and fend off problems such as cavities and tooth decay.