From the moment you walk through our doors, you will be welcomed into the SoCO Smiles Orthodontics family with open arms. We believe that great smiles open the door for great opportunities through improved aesthetics and boosted self-esteem. This is why we work hard to create a seamless experience from your first appointment until long after your treatment ends and you've achieved your dream results.
First Visit Is Complimentary
In order to remove any pressure and allow you to make the decision that best suits your needs, we've made first visits completely complimentary. Our goal is never to push unnecessary treatment on you; rather, we help guide you to the treatments that address your current and future needs and improves your oral health. We pride ourselves on being upfront with treatment options and costs so that we can create an open dialogue about what your orthodontic experience will look like.
Get to Know Each Other
One of our favorite aspects of the treatment process is forming a long-lasting relationship with our patients and getting to see smile transformations take place. We want you to get to know who we are as a team and office while we get to know what you expect from your treatment. Our personality is always on full display, from everything to our team members to the music we play during your appointments. We want everyone to feel comfortable and excited to come back to see us, so we've devoted our time and resources to creating an environment that is fun for our team and patients alike.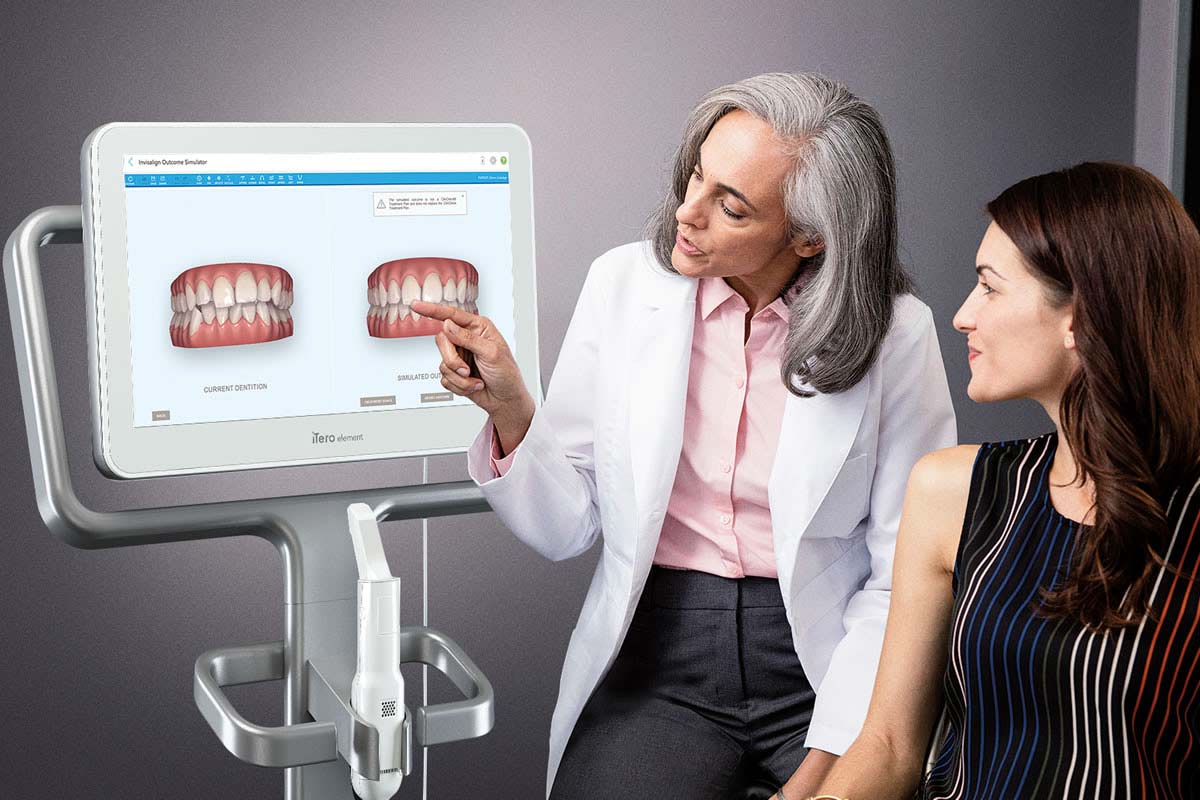 Comprehensive Exam
Not only do we want to know what you expect from the corrective treatment, but we also want to address needs that we've identified so that you get the care you want and need. To fully understand and decide what the best approach will be for your specific problem areas, we will conduct a comprehensive exam. For some patients, this will include X-rays, and for others, this may include a doctor examining your mouth and discussing some of their recommendations moving forward. This exam is a good opportunity for our patients and team to partner together to work toward a beautiful and healthy smile. It lays the foundation for our advanced techniques and gives us a clearer understanding of your path as a patient.
Treatment Options
Once we are able to identify some of your orthodontic needs, we will move on to discussing your treatment options. We know that with so many different choices, it can feel a little overwhelming, but we want to guide you through the pros and cons of different treatments so that we can find you one that fits perfectly into your lifestyle.
Everyone is unique and has an individuality that makes them shine, and our treatments are customized to reflect this quality. You aren't like anyone else, and your corrective treatment experience will be built around your personal preferences and our professional recommendations.
Timeline & Financial
Some of the most common questions we receive are about the timeline of treatment and how much it will cost. Each of these things depends on the treatment type and how extensive the problem areas are that are being addressed through braces or Invisalign. The longer you spend in treatment, the more it may cost. Most patients spend about one to two years with us, but during your complimentary consultation, we'll be able to give you a more realistic timeline that is custom to your needs and goals.
Once we figure out your treatment type and a timeline, it will be easier for us to help you budget for this investment. We know it can seem daunting to make a life-changing purchase like this one, but we've made it as simple and affordable as possible while still providing top-of-the-line care. We are proud to partner with most insurances to help cover a majority of costs associated with treatment. For any fees not covered by your provider, we offer flexible financing plans that make the investment a manageable one.
Same Day Treatment
A part of our commitment to serving our community well is to have the most advanced technology and practices. These assets allow us to offer conveniences such as same-day treatment. If you come in for your complimentary consultation and fall in love with our practice, we can outfit you with an appliance that will move you one step closer to the smile of your dreams. Our passion is crafting unique smiles that uplift our patients, and we are always excited and prepared to get started right away.